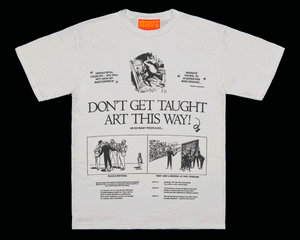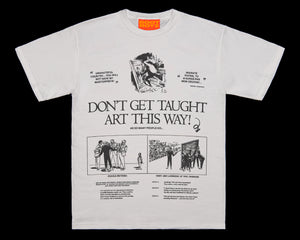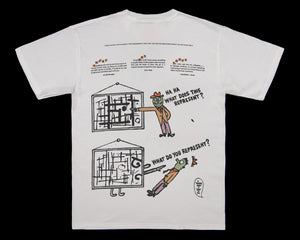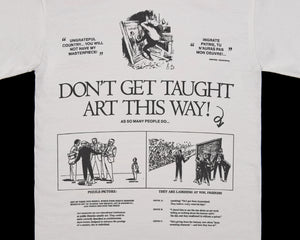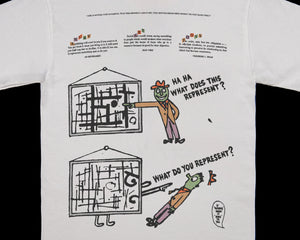 Angry Art Toons
Please allow 10 working days to process before shipping
White Short Sleeve - CMYK print
100% Combed Ring Spun Cotton 
Ad Reinhardt
Born in Buffalo and raised in Ridgewood, Queens, abstract expressionist painter Ad Reinhardt, who died in 1967 at the age of 54, is remembered as a staunch minimalist, an outspoken polemicist, and an unequivocal purist. ("Art is art," he once said. "Everything else is everything else.") For the last twelve years of his life, he worked almost exclusively in black, producing a series of stark, monochromatic paintings — nothingness art, as it is sometimes called — devoid of meaning, stripped of evident associations. But prior to these years of devout reductivism was a quarter-century of eclecticism, a flurry of activity borne of the kind of fundamental uncertainty that characterizes all young makers. Reinhardt fretted about the meaning of life. He agonized about the purpose of painting. He questioned everyone, critiqued everything, and worked incessantly.
As a student at Columbia University in the 1930s, Ad Reinhardt studied art history with Meyer Shapiro and was active in numerous student activities as a reporter and illustrator. His published work from this period nods somewhat overtly to the angular jazz-age poses of John Held Jr. and the comic gestures of Frank Briggs and H.T. Webster. The college-age Reinhardt produced drawings that were spirited and giddy; as he matured, his renderings grew less cartoony and more refined. 
But Reinhardt's interest was in words as well as in pictures. As the editor of Columbia's undergraduate magazine, The Jester, Reinhardt was responsible for, among other things, its redesign. (He critiqued the existing magazine for being "moribund" and vowed, under his leadership, to make the new magazine "satirical, sophisticated and screwy.") Within two years of graduating, he was experimenting with cubism, calligraphy and collage. By the late 1930s, Reinhardt had found employment with the WPA Federal Art Project, and for a period in the early 1940s, as a freelance writer and graphic artist. 
Reinhardt's influence as a writer and teacher paralleled his prolific studio life, and it is likely that his painting benefited from the kind of inquiry and scrutiny he pursued in the classroom. As a teacher of art history at Brooklyn College for two decades — a period in which his own painting progressed rapidly toward the minimalist reduction for which he is best remembered — he also found time to design posters. Combining found imagery, collage and a playful amalgamation of ransom-style letterforms, Reinhardt's broadsides are whimsical and goofy, and about as far from minimalism as you can get.
Throughout his comparatively brief life, Ad Reinhardt was a prodigious maker. He traveled frequently to Asia, wrote essays and criticism, and painted furiously. He designed magazines, posters and typefaces. He also drew cartoons, building a small but not insignificant body of work that, by all accounts, provided an alternate source of entertainment and exasperation.
In one comic created by Reinhardt, a museum goer points a finger at a modernist painting and asks "Ha ha what does this represent?" The painting retorts: "What do you represent?" Reinhardt had plenty of fire for both art appreciators and artists alike, sparing no one in the hundreds of cartoons he published in outlets like liberal newspaper PM and The Saturday Evening Post. His blend of wisdom and wit influenced a generation of artists, including cartoonist Art Spiegelman. Many of his jokes are timeless critiques of the pretension that often accompanies creativity.
https://designobserver.com/feature/ad-reinhardt-graphic-designer/5507
Honoré Daumier
Honoré Daumier was a French caricaturist, painter, sculptor and printmaker who lived from 1808 to 1879. Called the "Michelangelo of caricature" by contemporaries, Daumier was most famous for his caricatures of French politics and social movements. Daumier's prints were so widely circulated and well known that the July Monarch, Louis Philippe, imprisoned him for six months in reaction to Daumier's depiction of the king as Rabelais's gluttonous and greedy Gargantua.
Several of Daumier's prints have visible newsprint behind them. Like political cartoons today, Daumier's caricatures were printed for mass distribution; the two lithographs on newspaper were both printed in Le Charivari. Le Charivari was a primarily anti-monarchist paper based in Paris and was often the target of censorship by King Louis Philippe. Le Charivari's political lithographs landed several of its creators in prison, after which they only published social satires. Daumier, in conjunction with Le Charivari, was seen as a very real threat to the monarchy.
Arguing for a ban on prints, Minister of Commerce Charles Duchatel told the legislature that "there is nothing more dangerous, gentlemen, than these infamous caricatures, these seditious designs," which "produce the most deadly effect." Though continually fined and censored, Le Charivari managed to publish daily for most of its existence. It helped spread Daumier's fame to the rest of Europe, particularly England where he was a major influence for decades after his death.
Theo Shaw
Theodore L. Shaw is an obscure writer who published a series of books in the '50's and '60's with titles like Precious Rubbish and Don't Get Taught Art This Way! As So Many People Do. I think it's this guy's time to shine.  Shaw was singing the gospel of level-playing-field relativism about 20 years before post-modernism legitimized the practice.
Shaw filled multiple volumes with diagrams, gag cartoons, and barbed, contemptuous prose, all seething with resentment at the Art Establishment and the mechanisms by which we are taught to appreciate "art" as opposed to "entertainment."   Shaw attempted to objectively prove that every kind of expression had its appropriate value, and that, though certain works were "more complex" than others, none were necessarily better than any others for it. 
He sought to prove this through a series of dubious diagrams involving concentric circles and dots, applying pseudo-scientific reasoning to what is essentially a class-based argument against snobbism posing as expertise.
In contrast to the dictum that "Art is Immortal" and that institutions and "experts" (blech!) are here to tell us what is art and what isn't (and therefore what will endure thousands of years after we're dead) Shaw proposes that the true valuation of art should be based on an objective grid of complexity as related to its "tiring rate" (in other words, how quickly you get bored of it). 
If your artwork is technically complicated and is still able to avert fatigue in your viewer, it's really good.  If it's not all that technically complicated, but it also does not induce fatigue, it's good enough.  If it's technically complex and induces fatigue, it is not good and if it's technically simple and induces fatigue it is really bad.  I don't know if all this the best criteria on which to judge works of art, but I can't help thinking that if Mr. Shaw were around today, he would have had a sweet career developing Visual Arts Content Standards for the California Department of Education.
As foolhardy and misguided as this sort of mapping might seem, I think it does hold some value for artists today.  It represents a response to the dogma of its time, and was prescient of the conceptual and postmodern artists' attempts to drain some of the more self-indulgent rhetoric of modernism by introducing the signifiers of scientific objectivity.  Shaw's gag cartoons are also step-cousins to the editorial cartoons of painter Ad Reinhardt, which alternately eviscerated the dominant art movements of the time, and taught readers how to correctly look at paintings.
https://magazine.art21.org/2012/05/10/pervasive-desperation-and-precious-rubbish/#.YTfRhdNKjJ-
Jean Vigo
Vigo once observed that a "social cinema would mean saying something to people which would awaken other reactions than just the burps of those who go to a movie because it's good for their digestion." Pg. 155 of Drunken Boat: Art Rebellion Anarchy
Jean Vigo was born to Emily Clero and the militant anarchist Miguel Almereyda. Much of Vigo's early life was spent on the run with his parents. His father was imprisoned and murdered in Fresnes Prison in 1917. The young Vigo was subsequently sent to boarding school under an assumed name, Jean Sales, to conceal his identity.
Vigo is noted for two films that affected the future development of both French and world cinema: Zero for Conduct (1933) and L'Atalante (1934). In Zero for Conduct depicts boys on their first day back at boarding school after vacation, the boys are given a "zero for conduct" and Sunday detention for returning to bed after morning wake-up. Angry, they develop a plot to rebel and disrupt the school's upcoming commemoration ceremony, and recruit a fourth boy into the scheme. Meanwhile, the school's headmaster, a dwarf, and a mean monitor nicknamed "Beanpole" make life miserable for the children, while a friendly teacher amuses the boys but also earns the ire of the administration.
Vigo's extraordinary backstory is almost as fascinating as his films. The son of an anarchist who died in prison, the auteur left a tiny (about three hours' worth of film) but extremely impressive body of work before succumbing to tuberculosis, the age-old nemesis of romantic poets, at the age of 29.  Adding to his mythological stature is the possibility that he may have contributed to his own demise by laboring on his final film up until his last moments, instead of getting much needed bed rest; he may have actually worked himself to death, literally giving his life for his art.
The film's odd length (45 minutes) reflects the financier's belief that there was an untapped niche for medium-length films. Vigo cut his original feature-length treatment to the producer's specifications. The strange music that accompanies the pillow fight scene was composed by Maurice Jaubert, who wrote the theme, transcribed it in reverse, then recorded the inverted score. The tape was then played in reverse so that the original theme returned, but transformed.
The film was based partly on Vigo's childhood experiences, and the character of Tabard (the boy who swears in class and refuses to apologize) was based on the director himself. The line Tabard speaks in defiance of his teachers is a direct quote of an infamous insult Vigo's father addressed to the French government.
https://366weirdmovies.com/195-zero-de-conduite-1933/
The animated scene in Jean Vigo's Zéro de Conduite is a tribute to french caricaturist and animator Émile Cohl.
---