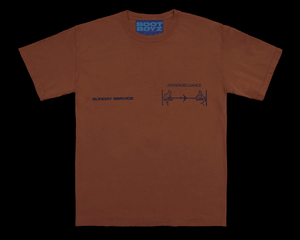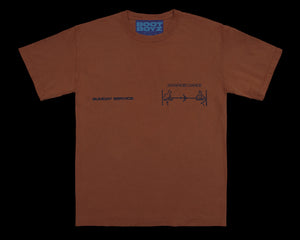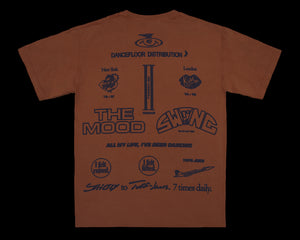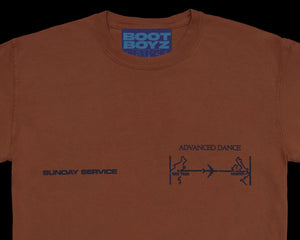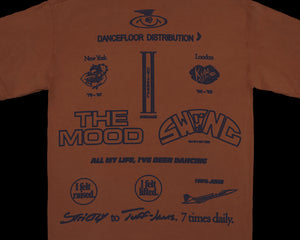 Garage Connection
Please allow 10 working days to process before shipping
Garment Dyed - Yam Short Sleeve
100% Combed Ring Spun Cotton



Paradise Garage
Garage music: a statement understood by many for its true reason and just acknowledged by others for its current meaning. About 11 years ago on Kings Street in New York City's Greenwich Village a club opened called "Paradise Garage" and it was there that this style of music got its name. "Paradise Garage" was a place where it was not who you were or what you were, as long as you were there for the sole purpose of partying to the music, pumped out by Larry Levan. 
"Garage music" was around before this time as "Philly" sound or just plain old soul music, based on the components of, a heavy bottom, smooth riding highs, hard percussion, a riding funky bassline, and a hot vocal. The vocal can be male or female as long as they are peaking sending out a universal message, one which everyone in the space can relate to. The sound was played at many clubs in the early seventies; The Sanctuary; the old Limelight; the Gallerys; Better Days; and the Loft; to name a few, and early supporters of sound include David Manduso and Nicky Siano. Though it was not until the "Paradise Garage" opened that this music became New York's underground sound in its fullest form. 

The Garage, with its massive sound system and spectacular light show, was unparalleled  by any other clubs in those days (and as of yet in these days). It became the place to be, the D.J., the music, the sound system, and thousands of party goers, not to mention the occasional visitors such as Mick Jagger, Grace Jones, Bette Middler, Eddie Murphy, Stevie Wonder, and Diana Ross. Top off with performances from Patti Labelle, Chaka Khan, Loletta Holloway, Jocelyn Brown, and Sylvester singing their now classic tunes. The music has retained its title of Garage Music due to these unforgettable days. Now D.J.'s such as Frankie Knuckles, David Morales, Johnny Dynell, and Justin Strauss pump the new garage sound, which is a combination of '88 house sounds and good old R'n'B music. It lives on in clubs like, the World, the Tunnel, Nells, M.K.'s also finds itself being a focus in Latin hip-hop orientated clubs such as the Palladium and 10-18. 
As far as its selling points Garage music and the record shop Vinyl Mania have always gone hard in hand. Vinyl Mania is only around the corner from where the Paradise Garage was, and it is always hip to the newest sounds as well as being aware of the classics. Garage music seems to have integrated itself into the mainstream dance music scene, and it's not going away... 
Club Zanzibar
Bill Brewster and Frank Broughton note that "The word 'garage' is by far the most mangled term in the whole history of music. What we now call garage—most likely pronounced British-style as `garridge,' and more help-fully called 'UK garage' (or previously 'speed garage'), is a style that emerged when soulful house music was sped up a little and attached to skippy drum and bass-style rhythms and cavernous half-tempo basslines." But to Larry Levan—childhood friend of Frankie Knuckles and longtime DJ at the New York dance club Paradise Garage—the word "garage" simply meant "New York house music". When Levan used the term "garage," he "was probably thinking about the kind of dubby electronic records he produced and championed at the Paradise Garage, just a small part of its broad play-list. In the UK the term was seized on as a way of marketing compilations of New York dance music, a way of separating the city's output from Chicago house and Detroit techno". In other words, "garage" was a term used in the United Kingdom for New York house music, and "speed garage" was a sped-up version. Brewster and Broughton observe that there are even further layers of complexity, since "the US garage sound doesn't strictly come from New York. It was crystallized in the nearby city of Newark, New Jersey, at clubs like Zanzibar. So it is more accurately called 'the Jersey sound' and owes its emergence to the taste-making of DJ Tony Humphries". - Last Night a DJ Saved My Life, 1999 
UK Garage
UK garage (also known as UKG) is a genre of electronic music originating from England in the early 1990s. The genre usually features a distinctive 4/4 percussive rhythm with syncopated (shuffling) hi-hats, cymbals and snares, and in some styles, beat-skipping kick drums. 
Garage tracks also commonly feature 'chopped up' and time-shifted or pitch-shifted vocal samples complementing the underlying rhythmic structure at a tempo usually around 130 BPM. UK garage was largely subsumed into other styles of music and production in the mid-2000s, including 2-step, dubstep, bassline and grime. The decline of UK garage during the mid-2000s saw the birth of UK funky, which is closely related.
'Garage' is considered a mangled term in dance music. The term derives from the Paradise Garage itself, but it has meant so many different things to so many different people that unless you're talking about a specific time and place, it is virtually meaningless. Part of the reason for this confusion (aside from various journalistic misunderstandings and industry misappropriations) is that the range of music played at the garage was so broad. The music we now call 'garage' has evolved from only a small part of the club's wildly eclectic soundtrack.
It started as a humble Sunday morning after-party but quickly inspired a whole host of events, and kickstarted one of London's most culturally important music scenes. Yet more than two decades later, Happy Days' influence is rarely given much credit.
DJs started to speed up garage tracks to make them more suitable for the jungle audience in the UK. The media started to call this tempo-altered type of garage music "speed garage", 4x4 and 2-step's predecessor. DJs would usually play dub versions (arrangements without vocals) of garage tracks, because pitch-shifting vocals could sometimes render the music unrecognizable (although sped up and time-stretched vocals were an important part of the early jungle sound, and later played a key role in speed garage). The absence of vocals left space in the music for MCs, who started rhyming to the records.
The evolution of house music in the United Kingdom in the mid-1990s led to the term, as previously coined by the Paradise Garage DJs, being applied to a new form of music also known speed garage. Its originator is widely recognised to be Todd Edwards, the American house and garage producer.

In the early nineties, Edwards began to start remixing more soulful house records and incorporating more time-shifts and vocal samples than normal house records, whilst still living in the US. However, it was not until DJ EZ, the North London DJ, acquired one of Edwards' tracks and played it at a faster tempo in a nightclub in Greenwich, that the music genre really took off.

With many pirate radio stations filling up the FM airwaves, the soaring popularity of UK garage saw 1999 take the genre into the mainstream, breaking into the music charts.

MJ Cole once stated, "London is a multicultural city... it's like a melting pot of young people, and that's reflected in the music of UK garage"
The one place that did support UKG was pirate radio. Girls FM and London Underground were two of the most well known pirates to jump on the new, British house sound. Jungle was huge on London pirate radio in the early '90s, but even the most militant jungle pirates programmed chilled shows with house or rare groove. When a faster, more bass-led house sound came along, it simply fitted better than the more polished US vocal house.
Every night throughout the mid-1980s, rooftops across London came alive with nefarious activity. With as many as 100 black music pirate stations on air, losing a transmitter to night-time sabotage by rivals or government raids was considered an irritating, unavoidable cost of business. However, what people really remember was the music and the DJs. People remember Paul Trouble Anderson for his effortless technical mastery of the turntables, an encyclopedic musical knowledge, his unrivalled record collection and his skill as a selector incapable of playing a dud tune that he will be remembered. 
He was an ambassador for house music in the UK and a trailblazer at warehouse clubs and raves, positioning himself at the forefront of many of the key shifts in UK club culture and influencing a generation of new DJs as well as many others in the music business, including future household names such as Soul II Soul co-founder Jazzie B, Trevor Nelson and Norman Jay.
By now Paul was known as Paul Trouble Anderson, a name he later adopted by deed poll, and inspired by his love of go-go, the richly layered funk from Washington DC and its pre-eminent band, Trouble Funk. A founding DJ at Kiss, he became an increasingly important asset for the station in its battle for credibility, and worked there for 13 years, initially in its prime Saturday night spot, from 9 to 11pm.
By 1994 producers were making tracks pre-programmed to fit the Sunday scene and pirate radio. More so than anyone else, Grant Nelson's releases on Nice 'N' Ripe perfected the aesthetic: cut up vocals, weighty sub bass, snappy, heavily swung snares and busy, flittering high hats. Soon DJs and producers outside the Sunday scene began to take notice of UK Garage. Matt Jam hooked up with Karl Brown, a former engineer with hardcore group Double Trouble, setting in stone a synergy between bumping US house and bass-ridden UK rave as Tuff Jam.
UKG frequently takes influence from other styles, such as Contemporary R&B and Hip Hop, as well as many forms of Electronic music, from Deep House to Drum and Bass to IDM. Its mainstream popularity peaked around the turn of the millennium. Due to the range of styles UK garage incorporates into its sound, it has birthed a number of subgenres including Future Garage, 2-Step and UK Bass. UK garage was also highly influential in the development of Dubstep and Grime.
What the UK and the Garage scene has always done extremely well is after the huge commercial success of a genre, to go back all the way underground and go back to the drawing board. This period with a few weird names (darkstep, nu swing, etc.) is what set the table for the next 10 years…
In 2000, with the help of pioneers like El-B, Zed Bias, Oris Jay and Horsepower Productions they started building a foundation for a rougher sound influenced by dub while still keeping those distinct UKG drums. It was dark, jazzy, stripped-down but all with the 2 step swing to it. It very rarely have vocals on them and instead of being led by string or keyboard melodies, it was led by the bassline.
Barbara Ann Teer
If you have ever heard mix cds or mixes from DJ Mark Farina, you've heard Barbara Ann Teer's voice. She is the source of those female vocal samples from the Om Records legendary Mushroom Jazz cd series and appears on many of Mark's underground house and MJ mixtapes from the popular Jazid Up / Mushroom Jazz weeklies throughout the entire 90s starting from 50 cassette tape runs in 1992.
"Dancing for me - all my life, I've been dancing - it was always kind of a social thing. And now that I look back in retrospect, I know that whenever I was unhappy, not feeling well, or depressed, I would dance. I usually dance around a table. And now that I have more knowledge, the concept of dancing around a table - table - circle - circle is completion, circle is wholeness, 360 degrees that kind of thing, but the music and the movement around the table and around the table - when I finished I always felt great. So now I say that that was a form of unconscious therapy, but all I knew was that I felt raised, I felt lifted. So I love to dance all of a sudden. It became my life, it's like liquor raises your spirits, well dancing for me raised my spirits and so they kept pushing me into the field of dance.

A need to be in an atmosphere that is free, that is open, that is striving for truth and not somebody else dictating to you to do your thing which you know how to do better than anybody else.
...the need to be in an environment that is free, that is open, that is devoid of dictators telling you how to do your thing..."
Black Drama from Smithsonian Folkways offers the autobiographical accounts of two leading African-American figures in live theater during the 1970s: Barbara Ann Teer and Charlie L. Russell. Russell, author of the play Five on a Black Hand Side shares his motivation behind writing plays designed with a black audience in mind while Teer describes her journey from dance student to founder of the National Black Theater.
The National Black Theater would be a rejection of everything she had learned about Eurocentric theatre and what it represented. She rejected the idea of scarcity, and the rejection she felt was built into the theatrical business as usual. 
Her daughter, Sade Lythcott, the NBT's current CEO, says that Teer "was interested in the liberation of our oppressed story. What if acting was about God consciousness—a ritual in feeding that energy?"
Her decision to start her theatre in Harlem only strengthened her ties to the Black Arts Movement. The space where the theatre was located, at the corner of 125th and 5th, was in the same space as the Studio Museum of Harlem and the Last Poets. Amiri Baraka was down the street; Teer was personally close to James Baldwin and the Shabazz family. All these connections and relationships in the movement were important to the work she began at that time. She did not call her company members actors; she called them Liberators.
She and her Liberators "sacrificed our egos, our desire to act, and went about the task of establishing a Black theatrical standard—a standard based on the Black lifestyle." She saw her task as nothing less than healing the violence and trauma inflicted on Black lives. Like many experimental thea­tres of the time, hers was more concerned with process than product. Classes included "Meditation and Spiritual Release" and "Liberation Theory." Teer was concerned with all aspects of Black life. She saw the spirit as the core of Black existence, and hence developed what she called the Teer Technology of Soul, a training process based in the traditions, rhythms, and active participation inherent in both the Pentecostal church and in African traditions. She believed that African Americans have a duality of culture and that both sides must be honored. She brought Pentecostal preachers into the thea­tre so that her company and her students could learn "preacher rhythms."
Later the Ford Foundation offered Teer a fellowship to travel to Africa, in what would be the first of more than 30 trips to the continent. Her second stop on that first trip was Nigeria, where, according to Lythcott, she found home. "She discovered the pantheon of Black gods, and for someone who had studied the Greeks, it was a game changer," Lythcott says. This connection to the African spirit was incorporated into her work, and brought home in the form of specially commissioned works by seven traditional and contemporary Nigerian artists from the Osun-Osogbo Sacred Grove, who carved interior and exterior artwork using tools and methods spanning seven generations. Teer's collection of this work is the largest of its kind in the Western Hemisphere, and continues to inspire the artists gathered in the theatre every day.
Breaking the Sound Barrier 
"You leave. Arrive before."
That was the promise of Concorde.
British Airways Concorde made just under 50,000 flights and flew more than 2.5m passengers supersonically. With a take off speed of 220 knots (250mph) and a cruising speed of 1350mph–more than twice the speed of sound–a typical London to New York crossing would take a little less than three and a half hours as opposed to about eight hours for a subsonic flight. 
Concorde used the most powerful pure jet engines flying commercially. The Aircraft's four engines took advantage of what is known as 'reheat' technology, adding fuel to the final stage of the engine, which produced the extra power required for take-off and the transition to supersonic flight.  Concorde's fastest transatlantic crossing was on 7 February 1996 when it completed the New York to London flight in 2 hours 52 minutes and 59 seconds.
Concorde measured nearly 204ft in length and stretched between 6 and 10 inches in flight due to heating of the airframe. It was painted in a specially developed white paint to accommodate these changes and to dissipate the heat generated by supersonic flight. 
Concorde was in commercial service at BA from 1976 to 2003. It operated scheduled services principally to New York, but also at times to Barbados, Bahrain, Dallas Fort Worth, Miami, Singapore and Washington.
It took some time to secure approval for Concorde to fly to New York JFK, which proved to be the last Concorde route. Concorde began scheduled services to New York on 22 November 1977.
---