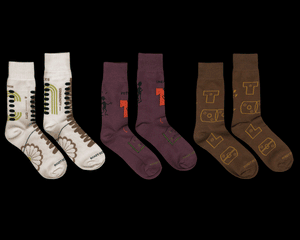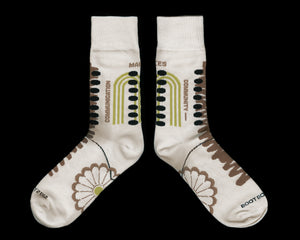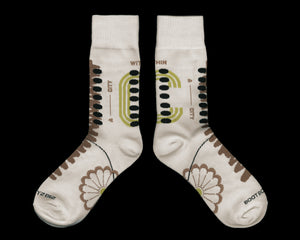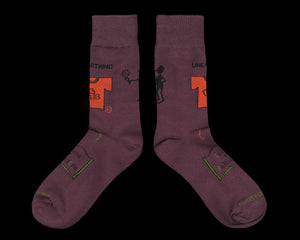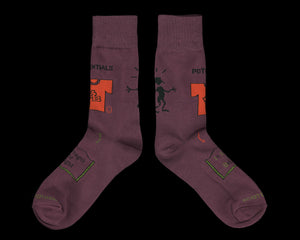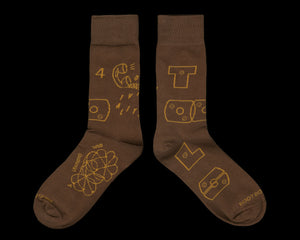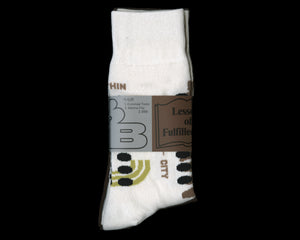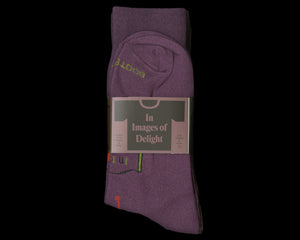 Marina City / Convivial Tools V3 / BBB - Sock Pack
Please allow 10 working days to process before shipping
3-in-1 Sock Package
80% Cotton  20% Spandex
One Size (US 6-13)
Marina City
When completed in 1962, Marina City was one of the first residential and commercial mixed-use buildings built in the United States and was also the tallest reinforced concrete building in the world. Marina City's greatest achievements, perhaps, weren't technical, or even strictly architectural in nature. Keenly aware that the built environment was "responsive to its social and political environment, whether it leads it...or follows it," architect Bertrand Goldberg sought architectural solutions that would have the power to improve the social conditions in which people lived—and Marina City was his grandest solution to date. As Mies's glass and steel architecture was rooted in the political upheaval of the Weimar Republic, so were Goldberg's designs rooted in the social and cultural upheaval of late 1950s, early 1960s America. 
Conceived as an antidote to the post-war exodus of the working class to the suburbs, Marina City strove to induce people to live downtown, something previously unheard of. Goldberg's diverse floor plan also anticipated an emerging "new family constituency." As increasing numbers of women entered the workforce, couples delayed having children, and divorces became more socially acceptable, new configurations of families—including single parents, and older children living on an independent basis—began to develop as an alternative to the dominant archetype of the nuclear family. Institutions, however, were slow to recognize this shifting landscape, and only due to Goldberg's own personal lobbying efforts was he able to persuade the Department of Labor that Marina City was appropriate to qualify for funding under their regulations, which stated that "the FHA was for family living."
Goldberg thereby finds himself in opposition to both of the great Chicago leaders who followed that first Chicago School: Frank Lloyd Wright and Mies van der Rohe. In opposition to Frank Lloyd Wright, because Wright, by embracing Rousseau's philosophical celebration of the American prairie pioneers is a dis-urbanist; in opposition to Mies van der Rohe, because this leader of the second Chicago School was hardly concerned with the city, setting his jewel-like glass boxes down like strange objects in an urban landscape to which they contribute no new life.
Marina City totally contradicted Mies' work. Not only by its form, in which the curve "thumbed its nose" at the right angle, but also by its material (concrete instead of steel). Beginning with this architectural manifesto, Bertrand Goldberg undertook a veritable crusade against box architecture, advocating the naturalist shell form over the abstraction of the parallelepiped rectangle. In Chicago, Bertrand Goldberg's Marina City (1963) seems to be a reply, almost an affront, to Mies' Lake Shore Drive apartments (1951). The disciple revolts. 
Goldberg wrote about this revolt:
"I was revolting against a century of static space, against the straight line, against the idea of man made in the image of the machine. All of Mies' drawings are identical, whether they are meant to describe a factory, a hospital, or a private home. Mies perceived architecture like an artist, and the inhabitants as people who could be folded to fit inside. Faced with the realization that modern urban planning was heading for a catastrophe, if I turned to Mies to find an answer, it seemed to me that Mies was not an urbanist, but rather an anti-urbanist. In the end I transcended the notion of Mies' post-and-beam structures without realizing it. Moving beyond these structures was inevitable. My own structures were geocentric. For Mies what was clear was in the form, not in the function. Now what is important to me is to give clarity to the function. Mies ignored the potential of American machines which could transform the nature of materials. He was a synthetic thinker rather than an innovator."
Goldberg's writing on Marina City resonates as a manifesto for the city: 
"More importantly, in the Marina City forms. I made it possible for people to participate in community formation. Both in the use of space and in the form of space I discovered that behavior can be influenced by the shape of space. The faceless anonymity of the corporate box which we had used for the buildings for our government, our health, our education, our business and our living, I discovered could be replaced more effectively by a new development of architectural structure and forms that supported its use by people. We could have both architecture and humanism just as we had begun to do 200 years before in the social revolutions of the 18th and 19th centuries.
The mixed use of Marina City combined working, recreation, shopping and living in the center of the city in a single complex of buildings for the first time in America…When we built Marina City we were compelled to fight and we fought successfully to revise the zoning code and the FHA regulations to permit the planning and financing of a mixed use project with housing. Today if we fail to build mixed use projects—if we fail to create neighborhoods in our city centers we recognize we are endangering the future life of our center cities.
Marina City was the project of the janitor's union. It was meant to bring exurbanites back into the city. It was meant to add new jobs, new life, even for the janitor's union. And it was mandatory for us to try for design development leading to a new humanism in city living.
We have learned how to combine many things that people need for the good life: In addition to security, there is a profound need for communication—not just communication by telephone or the written word, but by body language, by activity, by recognition, by joint effort and activity.
We have not fulfilled our promise to ourselves for democracy, for humanism, for using mechanization to give us a better life. These main targets for change in the human condition are still to be achieved. I doubt if they will be achieved by the sleazy glitz of postmodernism.
The art of architecture is in change. Architecture needs a face that can be recognized as committed to that change; a face to show that architecture is a social art in an industrial age, above all concerned with the individual. Architecture is not frozen music, as Goethe suggested, it is the body of humanism. Let us protect it."
Bertrand Goldberg
With his rumpled hair and simmering eyes, his tweed jackets and stylish shirts, and his courtly, genteel air—now impish, now prickly—Mr. Goldberg often seemed more of a poet than an architect. He was once described as a humanist whose medium happened to be architecture.
Known for his commitment to socially progressive design in large-scale residential and institutional projects, Goldberg's distinctive work often juxtaposed fluid, organic shapes against the rectilinear forms popularized after World War II. His work can be seen in such noted buildings as Marina City and River City in Chicago, and in hospitals across the United States. From his early work in prefabrication, through the leisure projects of the 1950s, to the skyscrapers of the 1980s—all his buildings are bound together by his belief in architecture's obligation to improve the state of the human condition and the conviction that urbanism was the best avenue to that end.
Rather than a distinct temporal phase or project type in Goldberg's oeuvre, urbanism can be regarded as a constant theme in his career. As Goldberg once said, "urbanism for me is simply a description of the way people come together." Seeking both to improve the conditions of existing urban areas and to create new ones, Goldberg employed a number of heterogeneous design solutions over the years. What unites these disparate projects is Goldberg's belief that "urban life will only be improved by increasing population density, which can make it possible to finance public transportation... to offer an intense cultural life, and to economize energy resources."
To the originality of its round form, Marina City added the much greater originality of creating, in two vertical blocks, a mini-city in which living, work, and recreation would mingle as they had done formerly in traditional cities. By situating his two towers on the bank of the Chicago River, Bertrand Goldberg was reconnecting symbolically with the old theme of water as a factor in urban animation. And since transportation and communication have become key words in contemporary life, he grafted his two apartment towers onto a port for boats and a garage for cars. Thus these two buildings were directly linked to the river, to Lake Michigan, and to the street. They didn't constitute a privileged island in an amorphous center, but rather a kind of radiator which was to heat up lukewarm urban life. 
Chicago Tribune architecture critic Blair Kamin wrote in reflection of Goldberg's life, "Goldberg's significance transcended architecture. In the 1950s, when there was widespread pessimism about the future of cities as places to live, Mr. Goldberg posed a vital alternative with the five-building Marina City complex." His son, Geoffrey, says there was a poetic relationship between his father and Lillian H. Florsheim, the sculptor and mother of Nancy Goldberg. He believes another artistic influence was Bertrand's sister, Lucille Strauss, who was an actress in the 1930s. Goldberg designed single-family homes, an ice cream store, gas station, prefabricated bathrooms, a theater, and hospitals. Besides Marina City, his major works included Astor Tower, Raymond Hilliard Center, Prentice Women's Hospital, and River City. His last major project that was built was Chicago's Wright College, completed in 1992.
When Goldberg was asked the question 'so why persist, then, in believing in the city as a moral and spiritual value?' He answered: "Because…people need to communicate personally with each other. This is a primitive instinct which architecture must understand, even if governments don't always understand. For communication makes community."
A City Within a City
"A city can no longer afford the burden of buildings which are only used thirty-five hours a week," adds Goldberg. "Spatial urban planning must therefore be multifunctional, and as open, as mobile, as possible."
To that effect, by the end of 1964, Marina City housed a grocery store, pharmacy, florist, gift shop, travel agency, bank, barber shop, beauty salon, restaurants and bars. A health club would soon be added, including a swimming pool. There was a skating rink and sculpture pavilion. Tour guides wore uniforms that were marine blue in color with gold insignia. A "teleview teller" near the tunnel to the office building was the 1960s version of an ATM, allowing the user to see the teller at Marina City Bank on closed-circuit television.
The National Design Center officially opened on March 2, 1964. Hours were 9:30 a.m. to 5:00 p.m., seven days a week. Three floors of exhibits appealed to everyone from professional decorators to the do-it-yourself crowd. Exhibits featured home furnishings, fabrics, appliances, decorative items, and building products. Details on each item, like where to buy and how much it cost, were available at an information counter on the first floor that was staffed by 12 people. But you could not actually buy anything at the design center. There was an auditorium on the fourth floor for lectures, meetings, luncheons, concerts, and art exhibits. Later a bookshop was added to the main floor.
A celestial map was buried beneath the east tower at Marina City in 1962, two years after groundbreaking. The text in the lower half reads, in English, Latin, Greek, Hebrew, and Chinese, "This building began on the 22nd day of November 1960 A.D. according to the Gregorian calendar. The planets in the heavens were as shown on this celestial map. The universal language of astronomy will permit men forever to understand and know this date. Marina City and its towers were the dream of William L. McFetridge, the planning of Charles R. Swibel, and the architecture of Bertrand Goldberg."
Robert S. Adler, president of Chicago Planetarium Society and the son of Max Adler, for whom Adler Planetarium is named, presented the star map on a silver plaque to William L. McFetridge, president of Marina City Building Corporation and former president of the union that financed Marina City. With text in five languages, the map was on a silver plaque. It represented a copper scroll that would over the next few weeks be covered with hot asphalt to protect it from moisture, then embedded in the foundation of the east tower core, in a mass of concrete 50 feet in diameter and eight feet thick.
The ceremony, which included an inter-denominational service, took place in the lobby of the east tower, just off State Street. Officiating were Dr. Kenneth Hildebrand, pastor of the nondenominational Central Church of Chicago, Rabbi Ralph Simon of Congregation Rodfei Zedek, and Very Reverend Comerford J. O'Malley, president of DePaul University. Several paper copies of the map, each rolled up into a tube, were handed out after the ceremony. The silver version, meanwhile, was displayed for a time in the lobby of the east tower. Small versions of the celestial map are found outside each apartment door and at the base of each elevator. 
In May 1964, Marina City Management launched a newsletter, From Marina City. "Living in Marina City is unlike living anywhere else in the word," reported the first issue. "Those who live and work in this 'city-within-a-city' are participating in an experiment in urban living which attracts world-wide attention and interest."
The first issue included an article about scenes filmed at Marina City for Mickey One, which was released the following year by Columbia Pictures. According to the newsletter, scenes were filmed inside a residence, at the skating rink, and nearby on the Chicago River. The second issue, published in June 1964, covered marina operations, which could launch a boat in five minutes. A typical story was about the grocery store, owned by Chalmer Herold.
WCFL, "Chicago's Voice of Labor," was a radio station owned by the Chicago Federation of Labor. At 1000 on the AM dial, the 50,000 watt station transmitted from a tower west of Chicago in Downer's Grove. But in the fall of 1964, the station moved its studios and offices from American Furniture Mart on Lake Shore Drive to Marina City on North State Street. The station took up the entire top floor of the 16-story office building, what is now Hotel Chicago.
https://archive.artic.edu/ryerson/goldberg/
Prentice Women's Hospital
Prentice Hospital was designed by Bertrand Goldberg and completed in 1975 as an early facility focusing on women's health. Like many of Goldberg's buildings, architecturally it broke with Chicago's Miesian tradition of steel and glass rectilinear forms. Instead, four elegant concrete wings form a clover leaf in plan and cantilever over a low Miesian base. In addition to the striking lines of the building, Goldberg is credited with being one of the first to use computer software to design the structural aspects of the building. Aside from its unique shape, which structural engineer William F. Baker calls "the only example of its type anywhere in the world," the complex curvilinear structure made construction history with its use of early computer-aided design techniques.  The software had previously been utilized in the design of dams and by the aviation industry and allowed Goldberg to maximize the potential of the structural materials.
The hospital relocated in 2007, leaving the distinctive structure vacant. A strong coalition of preservation groups, architecture and design organizations, and internationally-recognized architects and engineers demonstrated several viable reuses for the groundbreaking Modernist treasure that made it the centerpiece of a cutting-edge Northwestern medical research facility. In spite of a unanimous vote of the Commission on Chicago Landmarks that Prentice met the criteria for a Chicago Landmark, the Commission ultimately sided with Northwestern University and cleared the way for demolition of one of Chicago's most unique buildings.
In commissioning its new building for obstetrics, Northwestern Memorial Hospital sought to incorporate new ideas about women and childbirth. Goldberg's design took these ideas and ran with them. The building's floor plan made a family-oriented childbirth experience possible; fathers could be present for labor and delivery. In addition, the floor plan allowed nurses to be closer to patient rooms and have better lines of sight, improving women's care."
This social history is embedded in the building quite literally. Each leaf, in plan, held radiating maternity rooms, easily monitored from a central nursing station. Office designers of the late 1960s abandoned the endless corridor, and so did hospital architects: the idea was pods and communities, breaking down the anonymity of what could be seen as a seven-story baby factory. If anyone had a sentimental attachment to the building, it would be those parents, those children, and they turned out at hearings and protests. But the political fix—Mayor Rahm Emanuel wrote an op-ed arguing for demolition—overruled any argument. Penn Station met the wrecking ball because of real estate interests; the same was true for Prentice.
https://www.writingcities.com/2015/12/20/bertrand-goldberg-dans-la-ville/ 
https://archive.artic.edu/ryerson/2244
Convivial Tools V3
"A convivial society should be designed to allow all its members the most autonomous action by means of tools least controlled by others...To the degree that an individual masters his tools, he can invest the world with his meaning: to the degree that he is mastered by his tools, the shape of the tools determines his self-image. Convivial tools are those which give each person who uses them the greatest opportunity to enrich the environment with the fruits of his or her vision." — Ivan Illich, Tools for Conviviality
Born in Vienna between the two wars, the public intellectual and radical priest Ivan Illich had by his mid-30s set out to rethink the world. In 1961, having arrived in Mexico by way of New York City and Puerto Rico, he started the Center for Intercultural Documentation (CIDOC) learning center in Cuernavaca, an unlikely cross between a language school for missionaries, a free school, and a radical think tank, where he gathered thinkers and resources to conduct research on creating a world that empowered the oppressed and fostered justice.
Illich's achievement was a reframing of human relationships to systems and society, in everyday, accessible language. He advocated for the reintegration of community decision making and personal autonomy into all the systems that had become oppressive: school, work, law, religion, technology, medicine, economics. His ideas were influential for 1970s technologists and the appropriate technology movement—can they be useful today?
In 1971, Illich published what is still his most famous book, Deschooling Society. He argued that the commodification and specialization of learning had created a harmful education system that had become an end in itself. In other words, "the right to learn is curtailed by the obligation to attend school." For Illich, language often pointed to how toxic ideas had poisoned the ways we relate to each other. "I want to learn," he said, had been transmuted by industrial capitalism into "I want to get an education," transforming a basic human need for learning into something transactional and coercive. He proposed a restructuring of schooling, replacing the manipulative system of qualifications with self-determined, community-supported, hands-on learning. One of his suggestions was for "learning webs," where a computer could help match up learners and those who had knowledge to share. This skillshare model was popular in many radical communities.
With his book Tools for Conviviality published in 1971, Illich extended his analysis of education to a broader critique of the technologies of Western capitalism. The major inflection point in the history of technology, he asserts, is when, in the life of each tool or system, the means overtake the ends. "Tools can rule men sooner than they expect; the plow makes man the lord of the garden but also the refugee from the dust bowl." Often this effect is accompanied by the rise in power of a managerial class of experts; Illich saw technocracy as a step toward fascism. Tools for Conviviality points out the ways in which a helpful tool can evolve into a destructive one, and offers suggestions for how communities can escape the trap.
So what makes a tool "convivial?" For Illich, "tools foster conviviality to the extent to which they can be easily used, by anybody, as often or as seldom as desired, for the accomplishment of a purpose chosen by the user." That is, convivial technologies are accessible, flexible, and noncoercive. Many tools are neutral, but some promote conviviality and some choke it off. Hand tools, for Illich, are neutral. Illich offers the telephone as an example of a tool that is "structurally convivial" (remember, this is in the days of the ubiquitous public pay phone): anyone who can afford a coin can use it to say whatever they want. "The telephone lets anybody say what he wants to the person of his choice; he can conduct business, express love, or pick a quarrel. It is impossible for bureaucrats to define what people say to each other on the phone, even though they can interfere with—or protect—the privacy of their exchange."
A "manipulatory" tool, on the other hand, blocks off other choices. The automobile and the highway system it spawned are, for Illich, prime examples of this process. Licensure systems that devalue people who have not received them, such as compulsory schooling, are another example. But these kinds of tools, that is, large-scale industrial production, would not be prohibited in a convivial society. "What is fundamental to a convivial society is not the total absence of manipulative institutions and addictive goods and services, but the balance between those tools which create the specific demands they are specialized to satisfy and those complementary, enabling tools which foster self-realization." 
To foster convivial tools, Illich proposes a program of research with "two major tasks: to provide guidelines for detecting the incipient stages of murderous logic in a tool; and to devise tools and tool systems that optimize the balance of life, thereby maximizing liberty for all." He also suggests that pioneers of a convivial society work through the legal and political systems and reclaim them for justice. Change is possible, Illich argues. There are decision points. We cannot abdicate our right to self-determination, and to decide how far is far enough. "The crisis I have described," says Illich, "confronts people with a choice between convivial tools and being crushed by machines."
Illich's ideas on technology, like his ideas on schooling, were influential among those who spent the 1970s thinking that we might be on the cusp of another world. Some of those utopians included early computer innovators, who saw the culture of sharing, self-determination, and DIY that they lived as something that should be baked into tools.
Another book published in 1971 was Murray Bookchin's "Post-Scarcity Anarchism," which contained a short essay entitled "Towards a Liberatory Technology." Bookchin described the possibility of an environmentally-friendly technology, which would "make man's dependence upon the natural world a visible and living part of his culture". Bookchin envisaged small communities integrated into the natural environment and using small-scale technologies which permit decentralisation and autonomy. This article succinctly expressed the vision of a utopian ecological lifestyle, which was associated with the term "alternative technology."
Computing pioneer Lee Felsenstein has spoken about the direct influence Tools for Conviviality on his work. For him, Illich's description of radio as a convivial tool in Central America was a model for computer development: "The technology itself was sufficiently inviting and accessible to them that it catalyzed their inherent tendencies to learn. In other words, if you tried to mess around with it, it didn't just burn out right away. The tube might overheat, but it would survive and give you some warning that you had done something wrong. The possible set of interactions, between the person who was trying to discover the secrets of the technology and the technology itself, was quite different from the standard industrial interactive model, which could be summed up as 'If you do the wrong thing, this will break, and God help you.' ... And this showed me the direction to go in. You could do the same thing with computers as far as I was concerned." Felsenstein was one of the original members of the Homebrew Computer Club and the designer of the Osborne 1, the first mass-produced portable computer.
Many of his designs were leaders in reducing the costs of computer technologies for the purpose of making them available to large markets. His work featured a concern for the social impact of technology. The Community Memory project was one of the earliest attempts to place networked computer terminals in such places as Berkeley supermarkets to attract casual use by persons from all walks of life passing through and facilitate social interactions among non-technical individuals, in the era before the Internet.
Felsenstein was influenced in his philosophy by the works of Ivan Illich, particularly Tools for Conviviality. This book advocated a "convivial" approach to design which allowed users of technologies to learn about the technology by encouraging exploration, tinkering, and modification. Felsenstein had learned about electronics in much the same fashion, and summarized his conclusions in several aphorisms, to wit—"In order to survive in a public-access environment, a computer must grow a computer club around itself." Others were—"To change the rules, change the tools," and "If work is to become play, then tools must become toys."
In 1978, Valentina Borremans of CIDOC prepared a Reference Guide to Convivial Tools. This guide to resources listed many of the new ideas in 1970s appropriate technology—food self-sufficiency, earth-friendly home construction, new energy sources. But our contemporary convivial tools are mostly in the realm of communications. At their best, personal computers, the web, mobile technology, the open source movement, and the maker movement are contemporary convivial tools. What other convivial technologies do we use today? What tools do we need to make more convivial? Ivan Illich would exhort us to think carefully about the tools we use and what kind of world they are making.
"There can be no substitute for the work of rediscovering our common humanity in the practice of hospitality, which, insofar as it flowers into friendship, will be the starting point of politics."
https://breakingground.us/ivan-illich-technology-skill-of-hospitality/
https://www.theatlantic.com/technology/archive/2012/04/why-the-landline-telephone-was-the-perfect-tool/255930/
Boot Method
Régis Debray, Unearthing Potentials
'Since 1789, ideas alone have constituted the strength and salvation of the proletariat. It owes to them its every victory', wrote Blanqui (one of those who passed the ideas of 1789 on to the Paris Commune). Abstract concepts were the abc of a militant's apprenticeship. The notions of proletariat and bourgeoisie, like those of labour power, surplus value, relations of production, etc., that underlie them, are not apprehensible by the senses. Secondly, whether project or myth, the idea of the Revolution as 'what should be' is the denial and transcendence of the immediate, the overcoming of the present. Both as logical discourse and as moral undertaking, the socialist utopia demanded an inner break with the 'stream of everyday life', an act of faith that mobilized the powers of conceptual analysis to break the accepted social imagery down into elemental abstracts, like 'exploitation'.
Writing collectivizes individual memory; reading individualizes collective memory. The back-and-forth between them fosters the sense for history by unearthing potentials within the present, creating backdrops and foregrounds; it is fundamental for the idea of socialism. When it is cold outside and the night is long, memory means that we are not alone. Alphabetical memory, as Hegel would put it. Contrasting 'the inestimable educational value' of learning to read and write with alphabetical characters, as opposed to hieroglyphics, he described how the very process of alphabetical writing helps to turn the mind's attention from immediate ideas and sense impressions to 'the more formal structure of the word and its abstract components', in a way that 'gives stability and independence to the interior realm of mental life'.
All the revolutionary men of action I have met, from Che Guevara to Pham Van Dong by way of Castro (not the autocrat, but the one-time rebel), to say nothing of the walking encyclopedias known as Trotskyists, were compulsive readers, as devoted to books as they were unreceptive to images. A Hegelian would explain this by saying that reading leads to critical detachment, and—given that there is 'no science that is not hidden', nor future without 'rehearsal' of the past—to utopian anticipation. Abstraction encourages action, as remembrance leads to innovation. The greatest modernizers inaugurate their career with a backward leap, and a renaissance proceeds through a return to the past, a recycling, and hence a revolution. Columbus discovered America in a library, through the perusal of arcane texts and cosmographies. The Ancien Régime in France was overthrown by admirers not of Montgolfier or Washington, but of Lycurgus and Cato. Chateaubriand and Hugo revolutionized literature by dint of Gothic ruins, Nietzsche vaulted over Jules Verne with the aid of the pre-Socratics, and Freud revisited Aeschylus.
https://newleftreview.org/issues/ii46/articles/regis-debray-socialism-a-life-cycle
Debray is the initiator and chief exponent of the discipline of médiologie or "mediology", which attempts to scientifically study the transmission of cultural meaning in society, whether through language or images. Mediology is characterized by its multi-disciplinary approach. It is expounded best in the English-language book Transmitting Culture (Columbia University Press, 2004). In Vie et mort de l'image (Life and Death of Image, 1995), an attempted history of the gaze, he distinguished three regimes of the images (icon, idol and vision). He also strove explicitly to prevent misunderstandings by differentiating mediology from a simple sociology of mass media. He also criticized the basic assumptions of the history of art which present art as an atemporal and universal phenomenon. According to Debray, art is a product of the Renaissance with the invention of the artist as producer of images, in contrast with previous acheiropoieta icons or other types of so-called "art," which did not primarily fulfill an artistic function but rather a religious one.
Fulfilled Life in Images of Delight
"The teacher of art is a teacher of possible fulfillments of experience (the imagist), who conveys the lesson of fulfilled life in images of delight. The values he presents are not the themes of argument but the images of enjoyment. (Image/Imagination)"
A Gift is not a Gift unless it remains in circulation.
A Boot is not a Boot unless it remains in circulation.
---