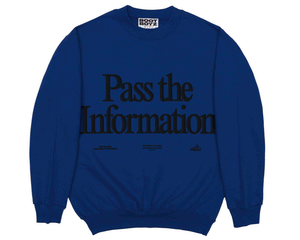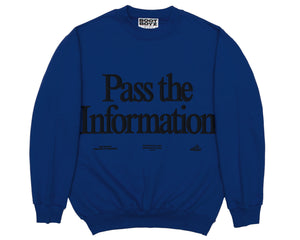 Remember to Remember
Please allow 10 working days to process before shipping 
Royal Blue Crewneck
90% cotton 10% polyester 

Profits to IWOC (Incarcerated Workers Organizing Committee)
Remember to Remember 
'Remember To Remember' is a celestial, emboldening downtempo cut. Beginning with the timeless line, 'Pass the information, extend the knowledge…' Rick dives into a spoken word stream of inspirational black artists and key figures whose most memorable words and song titles are framed into snippets of wisdom that get ever more significant the greater in number they become. A powerful monologue, in Rick's warm reassuring tones, shining a light on those men and women who have made 'strong contributions to mankind because of their compassion and humanitarianism, laid over instrumentation you lose yourself in just as easily...

Pass the information
Extend the knowledge
John Coltrane said — A Love Supreme
I interpret that to, All Living Things
Donny Hathaway said — The Ghetto
Woody Shaw said — Why?
John F. Kennedy said — Ask not what your country can do for you,
ask what you can do for your country


Pass the information
Extend the knowledge


Martin Luther King said — I have a dream
Stevie Wonder said — Innervisions, interpretation, watch with your ears
Aretha Franklin said — Respect
Barry White said — Love
Nina Simone said — To be young, gifted, and black
James Brown said — Stay in school
Cannonball Adderley said — Sometimes, we are not prepared for adversity, mercy, mercy, mercy
Oliver Nelson said — Stolen moments
Isley Brothers said — Harvest for the world


I know there can be better days


Pass the information
Extend the knowledge


Roger Franklin said — You'll never know
Hubert Law said — Say it with silence
Ashley Wilson said — Guess who I saw today
Earth, Wind and Fire said — Keep your head to the sky 
I know there is a force far wiser than I
The creator has a master plan
From the pen of Leon Thomas and Pharaoh Sanders
Alex Haley said — Roots
Gerald Wilson said — You better believe it
Charlie Parker said — Now's the time, wake up!
Billie Holiday said — God bless the child
LTD said — Love, togetherness, and devotion
Bobby Bland — Soon as the weather breaks
Sam Cooke said — You Send Me
Roy Ayers said — Believe in yourself
Gil Scott Heron said — Winter in America
Hugh Masekela said — Grazing in the grass
Richard Pryor said — How long?


How long will it take for us to become one? 
How long will it take for us to become unified? 
How long will it take us to understand the meaning of understanding? 
How long will it take us to do what we have to do that's most important? 
How long will it take our priorities to oversee? 
How long is how long it will take us. 
We must see beyond the eyes. 
Focus in on the soul. Love.


Wake up! See beyond the eyes
Remember the past, and begin with the future


Malcolm X - Muhammad Ali - Marcus
Rick Holmes - Miriam Makeba - Richard Pryor
Adam Clayton Powell - Martin Luther King - Elijah Muhammad 
W. E. B. Du Bois - Frederick Douglas - Nat Turner
Tom Bradley - Barbara Jordan - Shirley Chisholm
Ron Dellums - Andrew Young - Anwar Sadat
Clara Holmes - George Washington Carver - Cesar Chavez
Sidney Poitier - Count Basie - Duke Ellington
Fats Domino - Art Tatum - Fats Waller
Bill Robinson - Eric Dolphy - Rahsaan Roland Kirk
Paul Rogan - Stevie Wonder- Minnie Riperton - Louis Armstrong

Remember


All of these people, and more,
have made strong contributions to mankind.
Because of their compassion and humanitarianism,
even with their self identification based around love and unity, peace,
these men are now profound and prolific.
Factor that.


These men and women have made their great contributions to mankind.
We are to pass it on for the next generation
We shall never forget


Remember to remember to never forget
How long? How long? How long is how long
How long will it take? How long will it take, man?
How long will it take for us to come together?
It'll take us as long as you make it


May I prolong your life?
Life for you to live and to give, as generations do?
Focus 
Rick Holmes
Rick Holmes hailed from Knoxville, Tennessee. The radio deejay achieved success in the States and the U.K. via a collaboration with Roy Ayers, in 1981, for his 12" single 'Remember To Remember' backed with 'To The Unknowledgeable One' for the Blue Mink Records imprint. Stateside soul radio listeners will know of Rick's, Los Angeles based, radio shows for KBCA and KJLH stations. 
Born in 1936 to Clara Sams-Holmes and Richard Arthurs Holmes, Sr., Rick spent his early years in Knoxville. He served in the United States Navy, later relocating to Los Angeles. Rick initially worked for the US Postal Service, which enabled him to attend broadcasting school. He became a member of the Holman Methodist Church, and then took up a radio career at KBCA Radio 105.1 FM. Rick's radio show was entitled 'Rick's Family Affair', where he broadcast between 1967 and 1976.
In 1970 Rick married and began broadcasting at KJLH 103.2 FM (a station owned by Stevie Wonder), calling his show 'Holmes in your Home'. At this time he began a career as a spoken word recording artist, collaborating with Cannonball Adderley on his albums 'Soul Of The Bible', 'Soul Zodiac' and 'Love, Sex, And The Zodiac'. On leaving KJLH, Rick returned to Knoxville to spend time with his mother.
Roy Ayers
Roy Ayers is a highly popular jazz vibraphonist and vocalist. He reached the peak of his commercial popularity during the mid-70s and early 80's, whilst signed to the Polydor label, his album release ratio becoming quite prolific at various stages. Roy played piano as a child (his father played trombone, his mother taught him the piano) and took an interest in the vibes after the late Lionel Hampton gave him his first vibraphone mallets when he was just five years old. It wasn't until he became a teenager, that he took up the instrument seriously.
He grew up in the South Central area of Los Angeles and attended various schools including Wadsworth Elementary, Nevins Middle School, and Thomas Jefferson High School. The latter institution was the educational school attended by Dexter Gordon amongst other musicians.
At school Roy formed his first group, the Latin Lyrics, and in the early 60's began working professionally with the late flautist / saxophonist Curtis Edward Amy during 1962 (who later played the solo on the Carole King song 'It's Too Late').
When Ayers was asked about Rick Holmes he told a story about how Rick was once fired from his radio position. He mentioned how Rick Holmes smoked a lot of weed, and one night, while playing Miles Davis, he got on air in mid song and said "Miles Davis is a BAAAAD Muthafucka". He was fired on the spot. 
Rick Holmes recorded 'Remember To Remember' for Gold Mine Records (based in New York and a subsidiary of Roy Ayers' Uno Melodic records) in 1981, a song co-penned by Rick and Roy Ayers. Rick's 12" single is only one of two known 12" singles pressed on the label, the other being a track on Jaymz Bedford entitled 'Just Keep My Boogie'.
---