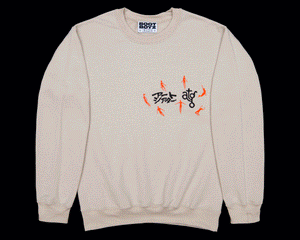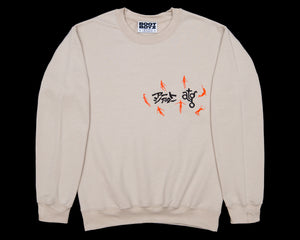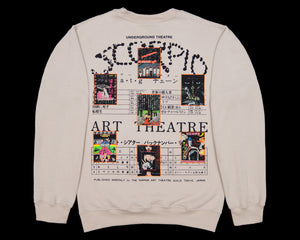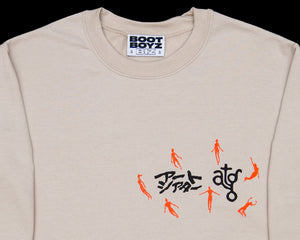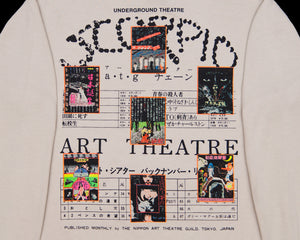 ATG / Art Theatre Guild
Please allow 7 working days to process before shipping
→ Designed in collaboration w/ Aoi Industry.
 Tee edition w/ embroidery also avail: https://aoi.black/  ← 
Sand Crewneck - 50% preshrunk cotton 50% polyester
CMYK w/ Puff Ink

Named by Yukio Mishima after Kenneth Anger's film Scorpio Rising, Theatre Scorpio (Sasori-za / 蠍座) was a legendary underground art space beneath the (ATG) Art Theatre Guild's Art Theatre Shinjuku Bunka. The venue quickly became a centre of activity for all corners of the 1960s arts scene, offering a platform for performance art, theatre, dance and screenings of avant-garde films. Although their autonomous voices were characterised by diversity in approach and style, the artists were united by their urge for individual expression and a desire for a space to share their ideas. Theatre Scorpio met their needs and became a nexus for their experiments.
Akira Kurosawa's Rashomon winning the Golden Lion at the Venice film festival in 1951 gave the Japanese movie industry a first glimpse of the international market. The subsequent success of other Japanese films at European festivals impressively demonstrated their strength. Still, film exports could in no way compare to film imports. Foreign movies had always been popular in Japan, but after WW2 their number was limited because of currency regulations, and importers were allocated quotas by the government. As domestic film production increased at the expense of foreign imports, distributors were less willing to take risks. They preferred films that could guarantee commercial success and largely ignored ambitious and "difficult" films.
There were several initiatives that attempted to adjust this imbalance including the now legendary ATG (Art Theatre Guild). In 1928, Tōwa Shōji was established by Nagamasa Kawakita in order to import quality foreign films to Japan. He became a well-known pioneer and entrepreneur of international film, as well as an importer/distributor in Japan. He and his wife, Kashiko Kawakita, strived to bring foreign films into Japan.
Kashiko formed Nihon Ārt Shiata Undō no Kai (Japan Art Theatre Movement Party), aiming to establish theaters for showing art films. ATG was established shortly thereafter in 1961 as an independent film theater/art house for the purpose of producing and distributing innovative, quality avant-garde art and non-commercial hidden films both inside and outside Japan, the kind of film that was not shown at major film theaters. This independent film company and its distributed films left a great impact on the Japanese film industry. The major Japanese film studio, Tōhō, advocated for the ATG mission and sponsored them as a main investor, also offering their theaters as an experimental screening place for art films, including Shinjuku Bunka, a film theater, which later became an ATG specialized "Art Theatre".
In April 1962, ATG started their program with Mother Joan of the Angels by Polish director Jerzy Kawalerowicz. The repertoire was chosen by a committee of mainly film critics. Setting up an independent committee was a radically new approach. As most of its members were film critics the films were chosen with artistic instead of commercial considerations in mind. At first, the films distributed by ATG were predominantly European productions, mostly contemporary, but also some classics which had never been shown in Japan such as the films of Sergei Eisenstein and Orson Welles's Citizen Kane.
Apart from masterpieces by Bergman, Cocteau, Antonioni and other established directors, ATG introduced several less famous names such as young Polish directors (Kawalerowicz, Wajda, Munk), the French Nouvelle Vague (Godard, Truffaut, also Agnès Varda and Bertrand Blier), Soviet filmmakers (Kalatozov, Schweitzer, Kheifits, Parajanov), young rebels like John Cassavetes and Tony Richardson, and, finally, Satyajit Ray and Glauber Rocha. ATG thus played a vital role in the creation of a new consciousness of film history in Japan.
Apart from foreign movies, ATG also acted as distributor for several independently produced Japanese films such as Teshigahara's Pitfall as well as films by Kaneto Shindo, Susumu Hani, Kazuo Kuroki, Yoshishige Yoshida, Nagisa Oshima and Akio Jissoji, whose later films ATG also produced.
Not only was the method of selecting the films new, the way in which they were presented was novel, too. One of ATG's basic rules was to show each film for at least a month, irrespective of attendance. In the 1960s, the repertoire was usually changed weekly, and a four-week run was exceptional even for box-office hits. ATG's flagship was the Art Theatre Shinjuku Bunka in Tokyo, which was managed by Kinshiro Kuzui who readapted it according to his own plans and created a completely new type of cinema. The whole cinema was painted a dark shade of grey, bills and posters and any other kind of flashy advertising were banished, there were only afternoon shows (most cinemas opened in the morning), the seats were spacious and comfortable, and the audience could not simply come and go during a performance like they did in the other cinemas. The foyer acted as a gallery where well-known painters and illustrators exhibited their work. 
ATG posters were often designed by famous artists and were utterly different from traditional movie bills in addition to their title and logo designs which were made by the filmmaker Jῡzō Itami, who was known for his much acclaimed work, Tampopo. ATG also published a film magazine alongside their film distribution. These serial magazines, which functioned as a kind of film program, expanded the regular content of film programs at the time, including film critique and highlighting a film scenario, among many other contents. In these film magazines, prominent film critics such as Nagaharu Yodogawa and Tadao Satō authored a series of articles.
In order to present even 8mm or 16mm films in the best possible quality (the screen of the Shinjuku Bunka was too big for these formats), the basement of the Shinjuku Bunka Kuzui had a small theatre built for film and theatrical performances, concerts, and other events. It was Yukio Mishima who was responsible for the name Sasori-za (Theatre Scorpio), a tribute to Kenneth Anger's film Scorpio Rising which was shown at the Shinjuku Bunka before. The Sasori-za was the first underground theatre in Japan, others soon followed. It was a center of experimental drama and experimental film (together with Teshigahara's Sogetsu Art Center) as well as a popular meeting place for all kinds of artists. There were movie and theater performances, concerts and recitals, happenings, and dance performances by Tatsumi Hijikata, the pioneer of butoh dance. The Sasori-za was one of the major centers of the Japanese avant-garde and set an example for many other underground theatres.
Five days after the opening of the Sasori-za ATG released Shohei Imamura's controversial documentary A Man Vanishes (Ningen Johatsu, 1967). This was the first film that ATG also co-produced. The idea of not only distributing but actually producing films had taken shape in 1965 with Mishima's Patriotism (Yukoku), the only film he directed, which was screened with great success at the Shinjuku Bunka. 
Calculating the profits of their previous films, ATG decided that in case of a budget of approximately 10 million yen (then less than $28,000) they should be able to cover the production costs. What eventually facilitated the decision to expand into production was the liberalization of the import market. In 1964, the official limit for importing foreign movies was abolished. So was the allocation of quotas which had determined the number of films per distributor. One result of this liberalization was a rise in distribution costs so that it became increasingly uneconomical to import foreign films. ATG decided that it would be more profitable to produce its own movies.
The first film planned and produced by ATG was Oshima's Death by Hanging (Koshikei), which was released in February 1968. Production costs were split between ATG and Oshima's production company Sozosha. Later productions followed the same pattern. Films were financed by ATG and the director's company in equal shares. Compared to those of the studios, feature film budgets were quite modest. Even though the estimated 10 million yen were hardly ever enough, ATG's films were often referred to as "10 million yen movies" (issenmanen eiga).
Projects were chosen by an independent planning committee of film critics. In the beginning, the directors of the Japanese Nouvelle Vague were at the center of ATG's production activities. Many of their major works were made in collaboration with ATG and furthermore, ATG distributed several films. ATG's importance for the Japanese Nouvelle Vague can hardly be exaggerated.
The early films of ATG were determined by the explosive political climate of the late 1960s and early 1970s. The highlight of their political films is Koji Wakamatsu's Ecstasy of the Angels (Tenshi no Kokotsu), which was, in 1971, closer to the events of the day than any other film. Ecstasy of the Angels is based on a screenplay by Masao Adachi, who later defected to Lebanon and became a member of the Japanese Red Army. The film anticipated the terrorism of the left-wing guerrilla in an almost prophetic manner and thus made for one of the biggest scandals in the history of ATG.
After 1972, political topics retreated into the background. It is possible to identify two strands of escapism in ATG's films: there is the escape from urban to more rural settings and the escape into the past. Typical films are Koichi Saito's Tsugaru Folk Song (Tsugaru Jongara-Bushi, 1973) and Kon Ichikawa's The Wanderers (Matatabi, 1973). Both of them were made by studio directors, which indicates a development towards increasingly orthodox films. ATG, admittedly, continued to co-operate with experimental directors such as Yoichi Takabayashi and, later, Nobuhiko Obayashi, but the films made after 1973 were much less radical than the earlier films. The main reason, apart from the general spirit of the age, was the closing of the Shinjuku Bunka in 1974. ATG thus lost one of its most important assets.
Most of ATG's other cinemas had already bailed out earlier. The profits were simply not large enough, nor were the people in charge sufficiently farsighted. The last film to be shown at the Shinjuku Bunka before it was closed was Terayama's Pastoral: To Die in the Country. Thus ending the heyday of the Art Theatre Guild.
When ATG was founded in the 1960s, Japanese cinema was still dominated by the studios even though they were already on their way out. ATG was the most important producer and distributor outside the studio world and decisively shaped the development of Japanese cinema. When the studios virtually stopped producing films and new companies filled the gap, the Art Theatre Guild could retire with a clear conscience and surrender the field to others who followed and expanded their policy of quality films. The spirit of ATG lives on in the independent cinema of today.