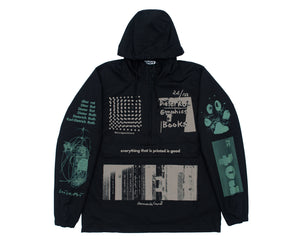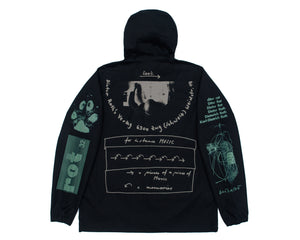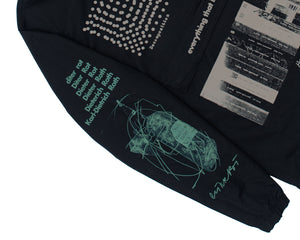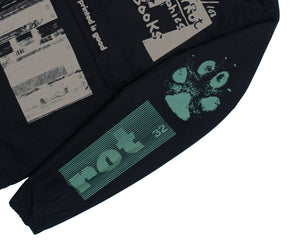 Dieter Roth / Diter Rot
Please allow 7 working days to process before shipping

Black Nylon Anorak
Half zip, Front pouch pocket, Side slit pockets

* Jacket runs large *
S - 23" W x 27.5" L
M - 24" W x 29" L
L - 25" W x 30.5" L
XL - 26" W x 31.5" L
Dieter Roth was a prolific, notoriously irascible, reclusive and eccentric German-born artist-provocateur who built a formidable reputation in Europe but remained something of a mystery in America, in part because he permitted his work to be exhibited here even more rarely than there.
Mr. Roth was a sculptor, performer, book designer, poet, graphic artist, publisher and musician, sort of. He produced sound works and created music throughout much of his life and also ran a record label, Dieter Roth's Verlag, that released his and other artists' works in the 70s and 80s.
Dieter Roth used his own name as an experimental artist's medium. At different times he went under the aliases of dieter roth, DITERROT, diter rot, and Dietrich Roth. Born Karl-Dietrich Roth in Germany in 1930, the son of a sugar beet farmer, he and a brother were sent for safekeeping in 1943 to Switzerland, a country that has always seemed to attract and cultivate people of nomadic and unusual temperament like him. He settled at a hostel for refugees in Zurich, where he stayed for four years and studied Greek, Latin and French at the local secondary school.
When Roth first started making Concrete poetry, in the mid-1950s, he termed his compositions "ideograms"; in them, pictures are formed out of letters, punctuation, or other letterset characters. As the rigor of this exercise began to wear on him, he found release in a visually related but philosophically distinct activity, which he called "stupidograms." Working from a grid of printed commas, he used a pen or pencil to coax out looping chains, teacups, toothbrushes, and other forms, mimicking word-search games.
He began to exhibit in 1958. With fellow artists Hermann Nitsch and Gunter Brus, he did improvisatory concerts of cacophonous music. He staged a concert of howling dogs. Once he collaborated with Richard Hamilton, the English artist, and a local dog named Chispas Luis. They named the project 'The Collaborations of Ch. Rotham' because of the three artists taking part in it. The word 'Rotham' was a combination of the beginning of Roth and Hamilton's surnames, and 'Ch.' stood for Chispas Luis. Chispas Luis spent a lot of time with the human artists, and he became one of the bunch. 
The three artists, primate or canine, had a lot of fun together, as shown by the works they created. Roth and Hamilton painted topics either for humans or for dogs, and thinking about the preferences of these animals, they drew a lot of sausages and the occasional old boot.
Apart from making the paintings, the artistic accomplices also sung and played the guitar, and recorded a few of their musical achievements. Four of them were later distributed in the form of a limited edition double 45 r.p.m. record called Canciones de Cadaqués. In these tracks it was possible to recognize either Chispas Luis or the human artists barking and growling over the sounds of the guitar. As further proof that Roth and Hamilton were endorsing Chispas Luis as their collaborator, 60 of the records came with a certificate signed 'by the three artists'.
Chispas Luis' signature was a print of his paw, and the human artists also posed as dogs by arranging their five fingerprints in the form of two more dog paws. They went on to have an exhibition in 1976 with the pictures of sausages and other images the trio made which were hung at dog-eye level.
In 1961 Roth participated in Bewogen Beweging (Moving movement), a major traveling exhibition of kinetic art, for which he also created the poster. Playing off the theme of the show, Roth's design interacted with its surroundings; when the sheet was pasted up in the street, the die-cut holes revealed glimpses of older posters or advertisements underneath.
The poster was just one of Roth's explorations of chance; in the same year, he created what he called a Dichtungsmaschine (poetry machine): a sheet of black paper punched with holes that, when overlaid on a printed text, would reveal poetic compositions of random letters. Bok 3b and bok 3d use die-cut comic and coloring-book pages to similar effect.
In 1966 Great Bear Publishing released a pamphlet which gathered a collection of manifestos by members of the Fluxus movement including a poem by Dieter Roth. Also in the pamphlet Wolf Vostell suggests lipstick and offset machines as replacements for bombs in Vietnam and Nam June Paik outlines his plans for a utopian laser television station. Other writings extoll lettuce and rainbows as well as jobs and peace.
In 1964, Roth was invited to Philadelphia to collaborate on a book project with Eugene Feldman, an art professor and proprietor of Falcon Press, who had seen a preliminary version of Roth's Book "Snow" and admired his experiments with primary colors and basic shapes. Feldman was dismayed at the radical shift in Roth's approach, in which the rigors of color and form had given way to an open-armed embrace of chance, accumulation, mess, and everyday objects, and their collaboration stalled.
Another local professor stepped in and arranged for Roth to continue work on Snow under the aegis of the Philadelphia Museum College of Art, with the understanding that Roth would donate Snow to the college and, in exchange, the school would produce a paperback version of the project.
After selecting the book's contents, Roth pinned the remaining pages up at the college gallery and invited guests "to drink some aquavit, to look at his current work, and to take home any (one) part of this work (free) that you like." Roth's deal with the college fell through, and he eventually self-published a paperback version of Snow in 1970, as part of his Collected Works series which he began planning in 1969.
Collected Works would be a self-published twenty-volume catalogue raisonne that would contain, collect, classify, organize, and document much of the work he had made to date. A testament to his ongoing impulse towards accumulation, Collected Works shows the duality of his approach, both chaotic and organized. The books were not issued sequentially (Volume 15 was published first), nor did they present the artist's work chronologically, but all were the same trim size, allowing for the economical reuse of material at the printer. He took the opportunity to review, and in some cases, amend the original artworks, and also issued deluxe editions of each volume, creating special covers that pertained to their contents including a croissant-encrusted cover for Volume 6. 
In 1975, he founded the Review for Everything (Zeitschrift fur Alles) where he promised to publish everything submitted to it. In a handwritten editorial note in the second issue he explained, "The Review for Everything, where everybody (Everybody), every man (everyman) can appear [where contributions of anybody who can write or draw (or not) may (can) appear], if she (he) likes to (do so); she (he) should send her (his) contribution (stuff)."  Submissions, which he specified should be no longer than four A4 pages, were printed in alphabetical order, and in return con-tributors received five copies each.
The magazine's covers were designed by the graphic artist Uwe Lohrer, and the first three issues were co-published with Hansjorg Mayer. Roth announced the ending of the magazine with issue 7, but it continued under the direction of Barbara Wien in Berlin for another three issues. True to its original editorial policy, the magazine grew to include 300 contributors and 1,396 pages. 
Around 1979, in a period of technological shifts, the old means of artistic expression changed as well. Dieter Roth used drawing to explore another way of connecting the symmetrical axes of images and bodies. Roth starts by doing two-handed drawing. He folds the paper down the middle, thereby giving it a body, and conjoins this, the paper body, with his own along a common plane of symmetry through putting pen to paper. The iconography of these two-handed drawings, of which he produced several hundred and reproduced huge numbers in print, consists exclusively of symmetrical hybrid bodies combining female and male, animals and things – an idea that becomes replicated when produced in many editions, or in book form.
In Los Angeles, he conceived an installation of 40 suitcases filled with different types of cheese. He often made sculptures out of fugitive materials like baked dough, chocolate, mayonnaise and rabbit droppings (fortunately, not all at the same time). Their natural deterioration, which he equated with his own death, became an integral part of his art.
All of this situated Mr. Roth within a post-war European scene that included Joseph Beuys, Yves Klein, Lucio Fontana and others who experimented with unorthodox techniques and who generally tried to blur the boundaries between performance and sculpture, theater and visual art, high culture and low.
He was perhaps best known as a maker of multifarious artist-books, hundreds of them. (One was as small as the eraser on a pencil; another, ''Literaturwurst,'' consisted of various periodicals chopped up, mixed with lard and spices and stuffed into a sausage casing.)
He was famously reclusive and difficult, notwithstanding his friendships with artists. It was through, Daniel Spoerri, for instance, that he met various members of the irreverent movement called Fluxus. Mr. Roth's link to Fluxus involved, among other things, his interest in music and sound, in ephemeral materials and in an anarchic kind of pranksterish humor.
But the dark undertone and furious, obsessive energy of his work ultimately separated him from many of the more lighthearted Fluxus artists. Perhaps despite himself, he was a fluent draftsman and expert printmaker, and his drawings and prints contained his wild energy within peculiarly virtuosic forms. Compared to the innumerable self-described artists of the last several decades who faked their way through his sort of work, Mr. Roth was the genuine item.
By nature he was tireless to the point of neurosis, and, among other things, this led him to experiment with numerous untested materials and techniques. ''When I was young I wanted to become a real artist,'' Mr. Roth once reflected. ''Then I started doing something I felt wasn't real art, and it was through this that I became a well-known artist.''