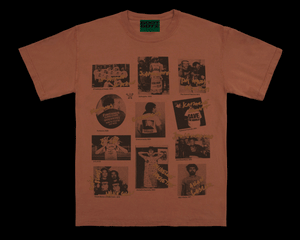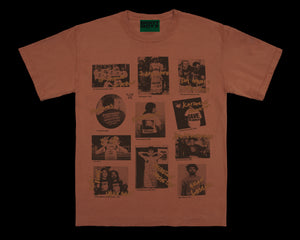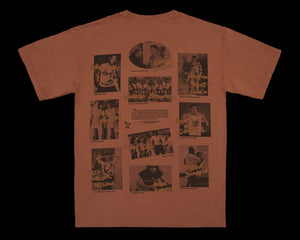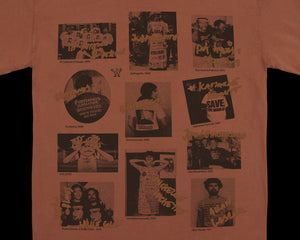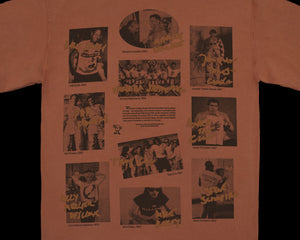 Dress to Read
Please allow 10 working days to process before shipping
Garment Dyed - Terracotta Short Sleeve
100% Combed Ring Spun Cotton 
IIT Institute of Design, 1968
Complete ID faculty wearing a Moholoy-Nagy t-shirt during a spring final critique (some time between 1966 and 1969). Back row: Joe Jachna, Photography; Charles Owen, Product Design; Carl Regehr, Visual Design. 3rd row: Bill Kaulfus, Visual Design; Bill Martin, Color Photography; Arthur Siegal, Photography; Gordon Martin, Printing & Head of Art History Program. 2nd row: James Montague, Product Design & Assistant to the Director; Aaron Siskind, Photography & Head of Photography Program; Jay Doblin, Director. Front row seated: Chad Taylor, Visual Design & Head of Visual Design Program; Misch Kohn, Print Maker.
Suffragette, 1908
The suffragettes used clothing as a form of communication rather than simply a form of feminine decoration or ornamentation; instead of using dress to attract and gratify the male gaze, they used it to challenge patriarchy. Not only did nineteenth-century feminists (New Women, suffragists, suffragettes) wear clothes that were practical, functional and convenient – facilitating physical freedom in defiance of restrictive feminine fashions featuring tight lacing and crinoline – but they also used these clothes to make explicit statements about female liberation. Dress became a central element of early feminist propaganda: skirts featuring slogans were worn to advertise suffragette literature and events; 'Votes for Women' sashes were worn across the body; symbolic jewellery was worn in the distinctive WSPU (Women's Social and Political Union) colours; and hand-made banners carried by women on marches were almost extensions of their clothing. The suffragettes realised the potential of dress to make powerful and subversive political statements.
Roy Ayers & Fêla Kuti, 1979
When Los Angeles born vibraphonist Roy Ayers and saxophonist/political iconoclast Fela Kuti linked up in Nigeria toward the end of 1979, the spirit of Pan-Africanism was already deeply woven into their respective bodies of work. While Fela was fighting government repression and honing his music into a sharply tipped instrument of revolutionary anger, Ayers found popular success throughout the 70s with his slick fusion of soul and jazz. When Ayers and his entourage touched down in Nigeria, the band embarked on a three week, five city tour throughout the country. Taking up residence in Phonodisk Studios, located in the town of Ijebu Igbo, Ayers and Fela recorded Music Of Many Colours, an album made up of two side-length compositions that went on to serve as anthems for the movement of global Black liberation.
The album opens with "Africa – Center Of The World", a groovy, midtempo jam that opens with Tunde Brown's taut rhythm guitar and Fela playing a simple keyboard melody. Africa 70's six piece brass section introduces the tune's regal chorus, before the entire band settle in, allowing Ayers to solo. His playing here is strong, flowery and controlled all at once. Nearly nine minutes into the song's expansive hypnotic groove, Fela's voice enters the proceedings, backed by a chorus of Alake, Tokunbo, Ihiase, Fehintola and Folake Anikulapo-Kuti. Taking aim at white supremacy itself, Fela openly mocks western civilisation, deeming it as being built on "wrong information", "wrong education" and "ignorance", challenging any assumptions about the superiority of Europeans and re-centering (no pun intended) not only the geographic position of the continent, but the intellectual and cultural genius of its people.
https://www.thewire.co.uk/in-writing/essays/roy-ayers-fela-kuti-music-of-many-colours
FONTANO'S, 1986
Aniello "Red" Fontano, started the business in 1963 as a combination delicatessen, butcher shop and grocery store in Little Italy. At the time, University of Illinois' Chicago campus was under construction nearby, and the workers would come to the shop and ask his father to make a sandwich for their lunch. From that, the butcher/grocery store evolved into a sandwich shop, Dominic Sr. said.
But the most popular sandwiches are the blockbuster, which features three meats, ham, Genoa salami and capicola, with provolone and Swiss cheese, and the wiseguy. The wiseguy loads up on the Italian cold cuts: prosciuttini, capicola, and Genoa salami with provolone cheese.

The vast majority of customers want sub sandwiches, served on what the menu calls Italian bread. But it's actually French bread from the Turano Baking Co., Dominic Fontano, Jr. said.

"It's like an Old World bread. From the outside, it's nice and crispy. It has a crunch when you bite into it, but it's easy on the tug, because it's soft on the inside," he said.
Another interesting thing about the Fontano empire is that Carm's, located just across the street, is owned by Red's sister and that section of Polk Street is named for him. The Fontano family appears to own just about every building in the immediate area. As Red told me, "I can do anything I want, they named the street after me."
Environments, 1969
"I Can Help You" promo shirt for Irv Teibel's Environments. Here was something you could hear but weren't necessarily supposed to listen to. It wasn't a sound effect, but it wasn't music, either. And while it professed to contain the ocean, it had none of the purity or taxonomic specificity you'd expect from a field recording. Here was nature not as it is, but as we hope it'll be, the lullaby of waves without the sand in our trunks. 
Katharine Hamnett, 1984 
"Is that what it's all come down to— no philosophy that can't be printed on a T-shirt?"
The question is asked by the character Henry, played by Jeremy Irons in Tom Stoppard's "The Real Thing." The answer— in big, bold, capital letters—can currently be seen on the city's streets, where fashion and philosophy frequently unite. 
The message T-shirts got a lot of attention at the recent fall fashion showings in Britain, where they are the specialty of Katharine Hamnett, among others. The designer, in fact, even sported one that said "58% Don't Want Pershing" (a reference to the American missiles deployed in Europe) at a reception given by Prime Minister Margaret Thatcher. 
To some people, boosting one's causes is obviously more important than a designer's initials. 
2-D, 2002
Stuart Pot (also known as 2-D, Stu-Pot, Pot, or Face Ache) is the lead vocalist and keyboardist of Gorillaz. Created by former Blur frontman Damon Albarn, Gorillaz was a project that fused elements of post punk acts like Swell Maps with dubby Raggae and hip-hop.
Jean Baudrillard, 1995
In his book In the Shadow of the Silent Majorities (1983), Baudrillard debates that the modern era has entered into a phase of disintegration and collapse. He says that the old class structure has vanished entirely, leaving behind a nothingness, an empty space between the masses; their translucent reality. The masses no longer have a distinct status of their own. The plethora of surveys and statistical exercises have rendered the masses incapable of being responsive to meaningful political representation. All religious, philosophical and political ideologies have been readily absorbed and neutralized by them. He further says that the law has generalized everything to such an extent that no specificity has been retained. The law imposed upon the masses is a collection of confusions, assigning sexual, political and religious labels to anything and everything.
The full, original Baudrillard quotation is in fact slightly more unwieldy: 'Power is only too happy to make football bear a facile responsibility, even to take upon itself the diabolical responsibility for stupefying the masses', a typically odd, quirky sentence taken from Baudrillard's volume In The Shadow of the Silent Majorities, originally published in French in 1978, the year of the soccer world cup in Argentina. At his wedding to journalist and art director Marine Dupuis in the late 1990s, when he was well into his sixties, the ushers were kitted out with brand new T-shirts emblazoned with the quote at Beaudrillard's own expense!
Rúben Blades & Willie Colón, 1973 
In 1978 Blades and Colon produced Siembra, their second collaboration. The president of Fania did not want to release it but finally allowed it, selling over five million copies in years to come and becoming the most selling Latin album for over two decades.
The Vision of Latin NY Magazine in 1967 was to have a Latin magazine written in English for the Latin American community of New York City. The plan was to assemble a group of writers, entertainers, community activists, family friends and those who had a strong conviction and involvement in the community to help launch a magazine geared for the Latin community of New York City. It was a monumental task, a total commitment of volunteers who had a strong belief in the success of the magazine. In January 1973, Peter Rios gave artist/illustrator Izzy Sanabria the right to use the Latin New York magazine title which he relaunched and ran from 1973 to 1984 and is the best documentation of Salsa history of that period. LATIN NY Magazine pioneered the way Latin Magazines are written today.
In 1975, Izzy and his staff at Latin NY openly criticized the National Academy of Recording Arts and Science) for refusing to include a separate Latin Music category in the Grammy Awards despite being petitioned for 17 consecutive years. He goes further by producing his own awards show, the Latin NY Music Awards, which brought international attention and recognition to the music and its creators. These awards were not only important for the Latino and music community, but they also forced NARRAS to create and include a Separate Latin Music Category in the Grammy Awards competition.
Izzy Sanabria not only hosted the awards but also designed all the art for the event, an extension of his work designing LNY Magazine:
"The influence of surrealism is like political cartoons, which have a graphic message. That's the point of the presentations I have made of graphic art. We are visual communicators and as visual communicators, the thing about us is to grab the attention of the observer…"
"I had the opportunity to experiment on the posters. Posters have great historical importance because they teach musicians, who goes up, who goes down according to popularity, and there is experimentation, because, for example, the color separations were all handmade. Then they are visual documents of a development in music. The covers don't teach that. The covers are the first images you have of a musician, but the poster places them in time."
Micheline Hachette, 1964
Dress to Read was realized by Roland Sabatier in April 1964. Issue 4 of the lettrist assembled Ur, edited by Lemaître with Roberto Altmann and Jacques Spacagna, includes the spectacular hypergraphy clothing of Roland Sabatier modeled by Micheline Hachette and Alain Satier. Printing letters on clothing as design elements entered the popular lexicon during the go-go years of the 1960s; the body became a lettrist-like canvas for expression as the cursive and glyphic symbols mixed with a pop sensibility in poetic expression on bodies and clothes. 
https://books.google.com/books?id=sa_hymCZQQIC&lpg=PA105&ots=_h89J-_yY8&dq=A%20Dress%20to%20Read%20%22Roland%20Sabatier%22&pg=PA105#v=onepage&q&f=false
Allan Wexler, 1971 
ID Shirt    1971
Wexler makes buildings, furniture, vessels and utensils as backdrops and props for everyday, ordinary human activity. The works isolate, elevate, and monumentalize our daily rituals: dining, sleeping, and bathing. And they, in turn, become mechanisms that activate ritual, ceremony and movement, turning these ordinary activities into theater.
Willi Smith, 1984 
COMING OUT IN APRIL— A FASHION ART EXPLOSION 
WilliWear Production's first artventure—the artist t-shirts, a juxtaposition of provocative art with the most basic piece of clothing—has resulted in an eclectic array of t-shirts totally for today. 
Twenty contemporary artists each submitting original works for this new collection of silkscreened art clothing. Ranging in temperament from the political to the poetic, the artist's t-shirts inspire, provoke, caution and delight. Barbara Kruger's "I can't look at you and breathe at the same time"; SITE's Tumbling Bricks; David Stolz' Childhood Fantasy and Arman's Abstract Violin, together form an intriguing fun-filled reflection of our society. 
This timely collaboration is the first endeavor of WilliWear Productions, a new company conceived by WilliWear president Laurie Mallet and designer Willi Smith in conjunction with Ronald Feldman, to fuse the worlds of art and fashion. The result is a spectacular explosion of creativity: a unique addition to the possibilities of fashion—wearable, washable art at affordable prices. 
Maurice Lemaître, 1964
Michel Tapié (1909-1987), internationally active French critic, curator, and collector of art, and supporter of Lettrism, 'intervenes' on Lemaître's 'living body-frame' on 12/8/1964 at the Gallery Connaître in Paris.
Joaquin Torres-García, 1921
The New York Times Building found itself unexpectedly dancing with the Independents on the costume of J. Torres-García, the Uruguayan-Spanish artist, who had New York City outlined on his costume, the Woolworth Building on one leg down town, the Métropolitan Tower on the other, he sat on the Bowery, the Times Building was on his chest just above Forty-second Street, and the Bronx ran uptown on the back of his neck. 
Varvara Stepanova, 1924
Despite the resonant call among the avant-garde for a constructive and industrial art form, the prevailing form of design at textile factories was a pastiche of styles differing little from pre-revolutionary stereotypes. In some cases this was florid ornament that more a remote resemblance to traditional peasant motifs; in other cases it was a vulgar Art Nouveau whose tendrils and ganglia had little to do with the ultimate function of the fabric… the ignorance and conservatism that Popova and Stepanova encountered on the factory floor contracted sharply with what their intellectual colleagues were declaring at debates and conferences. Certain extremists shouted "Away With Shame!" And advocated nudity as the only possible equivalent of technological form… Others championed throwaway clothing, referring to the paper underwear that, they alleged, America was already producing then. 
As Stepanova wrote: "it is not enough to make a comfortable, clever costume design, one must make it and demonstrate it at work." Stepanova created uniforms for specialist workers, actors and athletes, each designed to best accommodate the physical movements of the wearer. Strong geometric lines emphasised the garment's structure including the seams, pockets, buttons, fabric bias and weave. In Stepanova's textiles, the print reminds us that the fabric has been woven together, the seams remind us that pieces of fabric have been sewn together, and the geometric lines remind us of the ways in which the fabric will bend, flex and move with our body in space.
100 FLOWERS, 1982
The URINALS formed in 1978 as a five-piece parody of punk rock, at UCLA's Dykstra Hall dormitory. The band consisted of Delia Frankel (vocals), Steve Willard (guitar), Kevin Barrett (toy drums), Kjehl Johansen (toy organ) and John Jones (later Talley-Jones, bass). Their sole performance as a five-piece was a four-song set (two originals and covers of the JAM's "This is the Modern World" and the Jetsons theme song) played at the dorm talent show, which was held in the building's cafeteria.
Their debut as a trio came on Halloween eve 1978 during a dorm-wide party. Vitus Matare, keyboard-player for LA power-punk band THE LAST, stumbled upon the band and proposed to record them. Utilizing the infamous Dokorder 4-track and a microphone designed for underwater use, four songs were recorded for release on the band's DIY label, Happy Squid Records. The peculiar ambience of the record can be traced to the technological limitations of its recording, Kevin's clicky-sounding toy-drum kit, and the guitar & bass being played live through the same amplifier.

Eventually, competence began to set in, and the material became more sophisticated, though its aggressive directness remained. The band felt uneasy using a moniker that no longer reflected the throwaway attitude of its early days. After much discussion, a new band name was decided upon, 100 FLOWERS, taken from the Maoist Cultural Revolution quotation, "Let 100 flowers bloom and 100 schools of thought contend."

 Kat Talley-Jones was an early photographer of The Urinals and 100 Flowers. She is the lyricist of "Ack Ack Ack Ack" and has compiled an impressive 1978 to 1983 gigography of The Urinals and 100 Flowers. Talley-Jones is the wife of the bands' bassist and vocalist John Talley-Jones. Talley-Jones is still involved with The Urinals and 100 Flowers, taking photos and contributing in countless other ways, something she's done since the late 1970s.
[Interviewer Ryan Leach]: Do you recall taking the photo for the Presence of Mind 7" EP? It has a real dada feel to it.
Kat: John came up with the idea. I think it was taken at Kevin's apartment. I don't know why it was just John and Kjehl (on the front cover). It feels like Kevin was developing in another direction. He had gotten extremely political. I wrapped them up in newspaper and took the photo. That one turned out nice because the black and white was more saturated. It seemed like the photos for the other albums were washed out. We may have had a rudimentary darkroom; it's possible we made the prints ourselves. That sounds like something we would've done. It's insane to me that we have so few photos. We just couldn't afford it at the time.

https://boredout305.tumblr.com/post/624191708774678528/kat-talley-jones-urinals100-flowers
ANDRE THE GIANT, 1987
From the WWF Mail-in catalogue: Now you can own the same giant-sized T-shirt that Andre wears! With his actual handprint on the front and footprint on the back, wear it as a night-shirt or even belted as a mini! U.S made, 50/50 cotton/poly blend.
TATS CRU, 1987
Aerosol Art mid 80's
Birmingham, England
Goldie, Nicer, Bio, Brim
3D aka Robert Del Naja, Tkid170 and Vulcan
In the early 1980s one of the largest community "graffiti art battles" took place next to the Bull Ring shopping centre in Birmingham, England. The city invited a selection of the UK's most renowned graffiti artists, including Wolverhampton local artist Goldie, Bristol's 3D (who went on to form Massive Attack), London's Mode from the Chrome Angelz, with Bronx Man Brim and his New York alter ego Bio attending for good measure.
The city erected massive boards with scaffolding in place to enable free movement of the artists. It provided a rare occasion of the age for so many prestigious artists to come together on one wall -- many battles would lead to crew rivalry, especially if one artist would "bite", or copy, another's style. A Channel 4 documentary titled Bombing preserves clips from the Battle.
Graffiti flourished with the help of the subway's visibility and its huge, captive audience. The presence of the subway acted as a central artery, pumping the influence of graffiti through every street and every neighborhood that it passed.
When leaving his tag, Bio is not simply writing on a wall, but taking up space with this self. By writing his name on public walls, he is literally inserting himself into that shared space. Graffiti completes the circle, extending the realm of the body onto a physical surface, reclaiming material property for those who have none, reclaiming the environment through the personal image. "The city itself appears as body-not an artifactual body held in common, but a body known, as our own bodies are known-needing an image or signature," posits Stewart (1987, 175). When I asked for Bio's opinion on why graffiti is created, he responded, "It has something to do with us being humans, trying to live forever. Everybody wants to be remembered. Nobody wants to be forgotten."
Cultural critic Susan Stewart defines the stylization of the writer's tag as "inseparable from the body, serving purely as a mark of presence, of concrete individual existence and reclamation of the environment through the label of the personal" (Stewart 1987, 165)
TATS CRU -- the TAT used to stand for "Train Art Theater," now it's "Top Artistic Talent" -- stopped painting subway cars in 1987. CRU members still live in the Bronx and mentor younger artists in their community, said Nicer.
https://www.jstor.org/stable/1477807?seq=1
http://www.lindseyokubo.com/the-tats-cru-in-their-own-words
Lizzy  Mercier Descloux, 1978
This dark French comedy by Jean-Luc Godard focuses on a group of students who have embraced Maoist ideals and strive to incite revolution through terrorist violence. Two of the members, Guillaume (Jean-Pierre Léaud) and Véronique (Anne Wiazemsky), are romantically linked, though their relationship is strained by their commitment to the cause. The group eventually plots to assassinate a high-ranking Russian governmental official who is visiting Paris, but things don't go according to plan.
Martine-Elisabeth "Lizzy" Mercier Descloux (16 December 1956 – 20 April 2004) was a French musician, singer-songwriter, composer, actress, writer and painter. With her partner, Michel Esteban, she helped establish the store Harry Cover, temple of the punk movement in France, and the new wave magazine Rock News. She struck up friendships with Patti Smith and Richard Hell when visiting New York in 1975, and both contributed material to her first book, Desiderata. She and Esteban moved to New York in 1977, meeting Michael Zilkha, with whom Esteban formed Ze Records. With guitarist D.J. Barnes, Mercier Descloux formed the performance art duo Rosa Yemen, and recorded an eponymous mini-album for ZE Records in 1978.
Mike Kelley, 1989
Recorded in two days, Raymond Pettibon's Sir Drone narrates the troubles encountered by two youngsters trying to form a proto-punk rock band in an industrial borough of Los Angeles in 1970. Featuring Mike Watt, base player of the mythical band Minutemen, and the artist and agitator Mike Kelley, it evokes the younger generation's disappointment with the hippy scene. Kelley's contribution to the project is the characteristic irreverence and corrosive language of his performances and involvement in the most radical type of rock music. Writing about his collaboration with Pettibon in Sir Drone, Kelley said: 'Raymond Pettibon's intelligent drawings have long been favourites of mine. In 1988 he shot a number of feature-length tapes on home-video equipment. All of them concern American radical subjects: the Manson family, the Patty Hearst kidnapping by the S.L.A., the Weather Underground and the beginnings of the American punk movement. This last one is the theme of Sir Drone.'
Steve Schapiro, 1964
First published by The New Yorker in 1963, The Fire Next Time, considered to be one of the most eloquent and powerful explorations of race in America, catapulted James Baldwin into literary fame. After reading Baldwin's essays, Steve Schapiro convinced Life Magazine, where he had freelanced as a photographer, to let him travel with Baldwin from New York to Mississippi, documenting the Civil Rights Movement that was well underway. Schapiro notes of meeting and traveling with Baldwin, "Here was an intellectual, a brilliant man, and a black leader who never seemed to forget the importance of relating to each other as human beings. He had a hunger for love and believed in its power."
After Schapiro's photo-essay ran in Life in March of 1963, he was assigned to cover the South in even greater depth. These assignments produced images that are now part of the American collective subconscious: George Wallace standing in the schoolhouse door at the University of Alabama, the March on Washington, Civil Rights leader John Lewis in Clarksdale, Mississippi, and Dr. Martin Luther King Jr. leading the march from Selma to Montgomery in 1965. Schapiro's photographs from this time are some of the most important historical documents of the American 20th century.